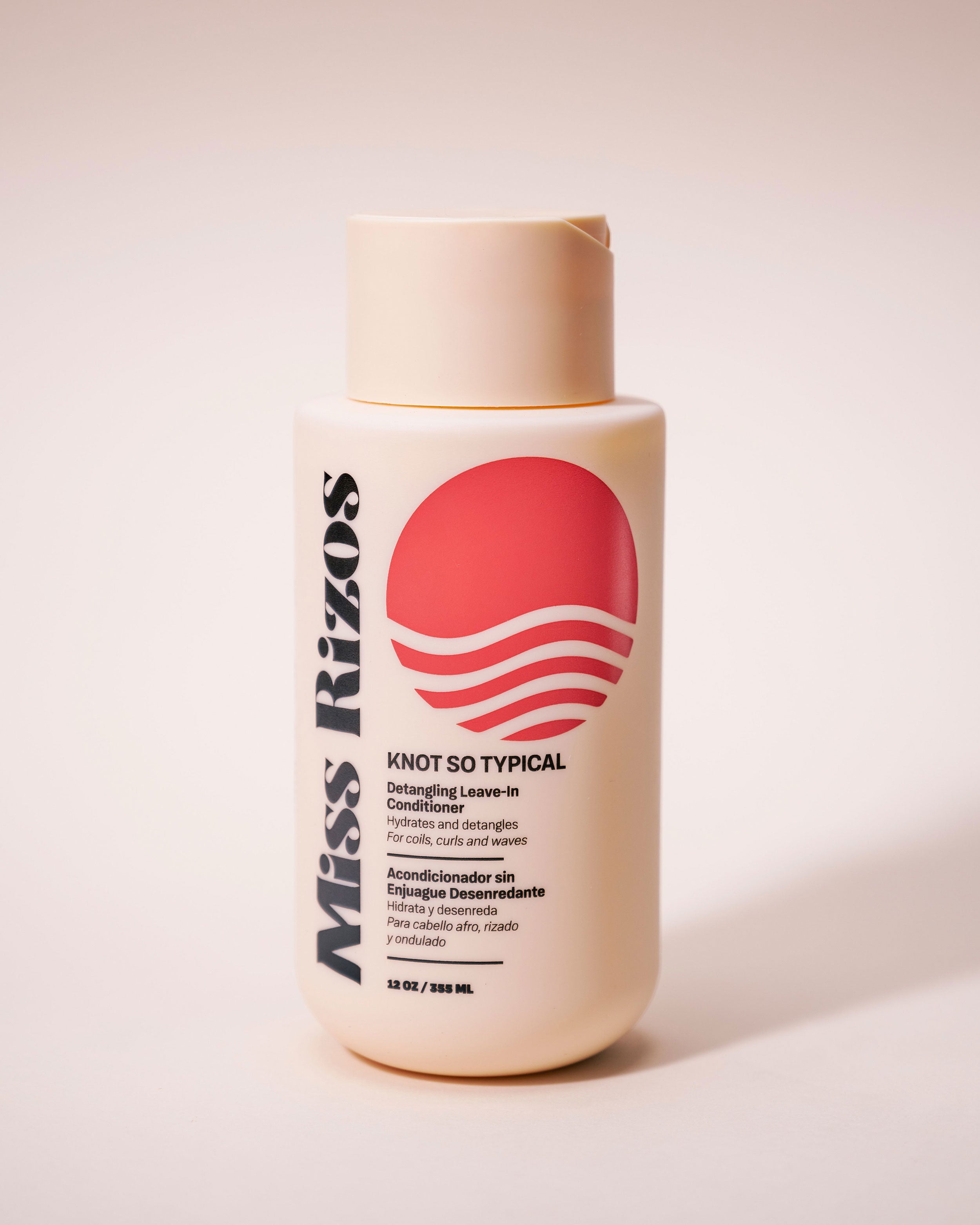 Knot So Typical Detangling Leave-In Conditioner
Hydrates and detangles for coils, curls and waves.
Real Talk:
Nothing about you is average. When your strands get twisted or tangled, we've got the remedy. Our leave-in mixes aloe, marshmallow extract, and papaya to brush all your knot-so-easy troubles away. Consider yourself primed, prepped, and ready for what's next.

Knot So Typical Detangling Leave-In Conditioner
Sapote oil
Dominicanas have been using it as a beauty secret for centuries to add nutrition, shine and stimulate hair growth.
Slippery Elm
Strengthens and promotes hair softness and shine.
Marshmallow Root
Adds softness and flexibility to hair.
Ingredients
Water, Glycerin, Aloe barbadensis leaf juice, Solanum lycopersicum (Tomato) fruit extract, Cetyl alcohol, Behentrimonium Chloride, (Althea Officinalis) root extract, Ulmus fulva bark (Slippery Elm) extract, Fragrance, Hydroxypropyl Guar Hydroxypropyltrimonium Chloride, Guar gum, Gluconolactone and Sodium benzoate, Agava Tequilana (Blue Agave) leaf extract, Carica Papaya seed oil, Citrus Aurantifolia (Lime) oil, Tocopherol, Pouteria sapole (Sapote) seed oil, Potassium Sorbate, Citric acid.
Make it work
Apply as much as you need on damp hair from ends to middle. For thicker textures, section
hair before working product through. Detangle as usual and watch every knot slip away.
Seal in moisture with Rise & Shine Hair Radiance Oil.
Pro tip: for higher density and tighter curl texture, use generously. For lower density and wavier texture, use one quarter size amount.
About the Products
Our journey to empowering women and girls around the world through hair began over a decade ago in the Dominican Republic. A curly girl's education and community-building blog gave birth to two professional salons - one in Santo Domingo and one in the heart of New York City. All kinds of people seeking style, identity or assurance graced our chairs. One conversation and affirmation at a time, our love for coily, curly and wavy hair grew.

We created our haircare collection to be a reflection of the wisdom in beauty and identity
cultivated over the years alongside our community. You'll find uncommon ingredients unique
to our Afro-Caribbean roots made to hydrate and strengthen, a simplified approach to daily
styling maintenance, and un montón* of love - poured into every ounce.

Discover the joy in taking care of your pajón*. We certainly have.

Love, Carolina.

*Dominican Glossary 
You didn't expect to find a Dominican slang lesson here, huh?
Montón: /noun/ A whole lot. 
Pajón: /noun/ Big, afro hair.